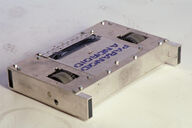 Paranoid Android was a lightweight robot which competed in the Long Beach 1999 event of BattleBots. It was a two-wheeled square-shaped robot armed with no active weapon. It didn't perform well in competition, winning only one battle and losing twice. Paranoid Android was built by Dan Haeg, who later built the middleweight Tower of Power, which only fought one battle. Paranoid Android was actually meant to be the base for that robot.
Robot history
Long Beach 1999
Wins/Losses
| Competition | Wins | Losses |
| --- | --- | --- |
| Long Beach 1999 | HammerHead | |
Trivia
Paranoid Android is named after a Radiohead song of the same name.
Ad blocker interference detected!
Wikia is a free-to-use site that makes money from advertising. We have a modified experience for viewers using ad blockers

Wikia is not accessible if you've made further modifications. Remove the custom ad blocker rule(s) and the page will load as expected.