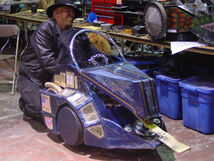 P.T. Bruiser
was a heavyweight robot which fought in Season 5.0 of
BattleBots
. It was a uniquely-shaped two-wheel drive robot armed with a small spinning bar in front. A stuffed gorilla sat in a "cockpit" on the top of the robot, and it acted as the robot's mascot. P.T. Bruiser had some success in competition, winning three fights before losing to
Wrath
in the round of 64.
The team that built P.T. Bruiser also built a lightweight robot named Robot X.
After BattleBots, P.T. Bruiser was renamed Primate Transportation, which may be what it's previous name means.
Its name is a pun on the Chrysler PT Cruiser.
Robot History
Season 5.0
P.T. Bruiser's first ever match was against Y-Pout. In this match, P.T. Bruiser took heavy damage from the full-body spinner, to the point where the stuffed gorilla on its back was barely hanging on. However, P.T. Bruiser survived long enough to outlast Y-Pout, who eventually stopped moving. P.T. Bruiser took the technical knockout.
In the next preliminary round, it faced Die Fledermaus Zwei. Both robots went straight at each other and P.T. Bruiser's spinning bar was ripped right off from the impact. However, P.T. Bruiser still was able to control the match and win on a 26-19 judge's decision. This win put P.T. Bruiser to the final preliminary round, where it faced Think Tank.
Despite not having its weapon, P.T. Bruiser did spectacularly in this fight, managing to fit Think Tank where its weapon used to be and slam it around the BattleBox. Due to this, P.T. Bruiser won a 28-17 judge's decision and advanced to the TV rounds, where it met Wrath. Unfortunately, P.T. Bruiser was outmatched here and it lost by KO, eliminating it from the tournament.
Because it lost in the round of 64, P.T. Bruiser couldn't participate the heavyweight consolation rumble at the end of the tournament. Even if it had it wouldn't have been allowed to compete in the fallowing royal rumble after Nightmare's tooth breeched the arena-barriers in the heavyweight consolation rumble.
Wins/Losses
| Competition | Wins | Losses |
| --- | --- | --- |
| Season 5.0 | | Wrath |
Ad blocker interference detected!
Wikia is a free-to-use site that makes money from advertising. We have a modified experience for viewers using ad blockers

Wikia is not accessible if you've made further modifications. Remove the custom ad blocker rule(s) and the page will load as expected.