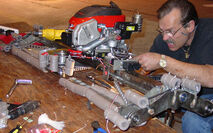 Overwhelming Force-59
 was a lightweight robot built by Team Dynamic Duo which attended the final season of
BattleBots
. It was a robot armed with a gas-powered spinning bar. However, it encountered issues and thus was unable to compete.
The team that built Overwhelming Force-59 also built four robots for Season 4.0: Yellow Jacket, Killer Wasp, Bumble Bee and Queen Bee. The team also entered into Robot Wars: Extreme Warriors with Bumble Bee renamed The Wife but since the robot was deemed unsafe they had to compete with loanerbot Tiger Cat instead.
Wins/Losses
Ad blocker interference detected!
Wikia is a free-to-use site that makes money from advertising. We have a modified experience for viewers using ad blockers

Wikia is not accessible if you've made further modifications. Remove the custom ad blocker rule(s) and the page will load as expected.