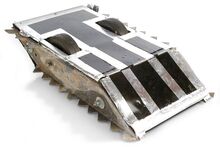 Orion was a heavyweight robot built by Christopher Hedburg and Jake Kueker in Team Pathfinder. It competed only in Season 3.0. Orion was a two-wheeled (the wheels where only used if the bot was flipped), invertible, wedge shaped robot that used a unique way of movement. It used a central ball (similar to a computer mouse) that gave it Omni-Directional movement in any direction. Orion was armed with side mounted spring loaded pick-axes mounted to "multi-positional side turrets".
It likely had no active weapon, however this is uncertain. Orion did poorly in BattleBots, losing its only match to Tripulta Raptor by KO.
Robot History
Season 3.0
Orion's first match was against Tripulta Raptor. Tripulta Raptor won by KO, and Orion was eliminated from the tournament.
Wins/Losses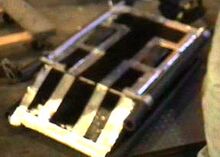 Ad blocker interference detected!
Wikia is a free-to-use site that makes money from advertising. We have a modified experience for viewers using ad blockers

Wikia is not accessible if you've made further modifications. Remove the custom ad blocker rule(s) and the page will load as expected.