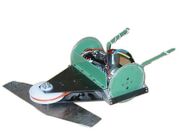 One Fierce Weed Wacker (Often shortened to OFWW) was a Beetleweight robot built by Fierce Robots that competed at the 2004 NPC Charity Open. It was a two-wheeled, Green, and Black, invertible robot armed with a powerful spinning undercutting bar.
One Fierce Weed Wacker did well in the competition, reaching the quarterfinals before losing to the eventual champion. One Fierce Weed Wacker would compete in two more events after BattleBots, the last one being RoboGames 2008, after which it was retired.
The team that built One Fierce Weed Wacker also built the eventual beetleweight Champion, One Fierce Upper-Cut, and Antweight semifinalist One Fierce Beer Coaster.
Robot History
NPC Charity Open
One Fierce Weed Wacker's first fight was against Wallop. It lost this fight, and was now in the loser's bracket where it faced Dark Fire. It won, and progressed to the next round where it faced Doktor. It won this fight as well, and was now in the quarterfinals where it faced teammate One Fierce Upper-Cut. It lost this fight, and was eliminated from the competition.
Wins/Losses
Trivia
Both robots One Fierce Weed Wacker beat had names that started with a D.
Ad blocker interference detected!
Wikia is a free-to-use site that makes money from advertising. We have a modified experience for viewers using ad blockers

Wikia is not accessible if you've made further modifications. Remove the custom ad blocker rule(s) and the page will load as expected.