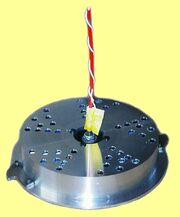 One Fierce Beer Coaster was an Antweight robot built by Fierce Robotics. It was a Silver, full body spinner with a turned 7075 Aluminum shell, and two Titanium teeth, this was driven by a Promax 370 motor. Armed with such potent weaponry, One Fierce Beer Coaster did well in the competiton, placing third overall.
Although One Fierce Beer Coaster is retired, the team still competes, and is very successful to this day winning multiple events with multiple different robots.
Robot History
2004 NPC Charity Open
One Fierce Beer Coaster's first ever fight was against Decidedly Undecided. It won this match, and next faced The Mailman. Winning this fight put it against /bin/bash. It won this fight as well and faced ShazBot. OFBC lost this fight, and was now in the losers bracket final against MicroNightmare. It lost this fight as well, and was eliminated from the competition in third place.
Wins/Losses
Trivia
Both of One Fierce Beer Coasters losses were at the hands of a Team Nightmare machine (ShazBot, and MicroNightmare)
Ad blocker interference detected!
Wikia is a free-to-use site that makes money from advertising. We have a modified experience for viewers using ad blockers

Wikia is not accessible if you've made further modifications. Remove the custom ad blocker rule(s) and the page will load as expected.