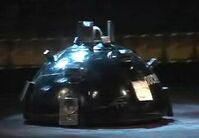 OUCH!! was a superheavyweight robot built by Team ORGANISED CONFUSION which competed into the 2004 BattleBots charity event. It was a black full-body spinner armed with several teeth. It performed well in competition, winning four matches overall.
Robot history
2004 NPC Charity Open
After receiving two byes, OUCH!!'s first opponent could've been Nitro SOW. After multiple hits between both robots, Nitro SOW's hammers stopped spinning and OUCH!! was getting ready to hit Nitro SOW again. After this, Nitro SOW stayed away from the spinning OUCH!!. Nitro SOW got hit by OUCH!! again and OUCH!! suddenly stopped moving. Nitro SOW pushed the immobile OUCH!! toward the pulverizer, but it wasn't able to and OUCH!! was counted out. Nitro SOW won by KO and OUCH!! was now in the loser's bracket.
Wins/Losses
| | Wins | Losses |
| --- | --- | --- |
| 2004 NPC Charity Open | Bye (X2) | |