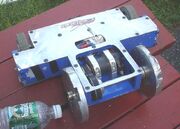 Ntertainment
was a Hobbyweight robot built by 
Team Demolition
that registered to compete at the 2004 NPC Charity Open. It was a two-wheeled, Blue, and White, invertible, t shaped robot that was armed with two vertical flywheels.
However for reasons unkown, Ntertainment did not compete. Paul Ventimiglia, the leader of Team Demolition would later go on to be very successful in BattleBots with a total of three championship winning robots. Green Wave which won the Middleweight division at BattleBots Rochester R3 in 2005, Bite Force the champion of the 2015 ABC BattleBots reboot, and Brutality the undefeated champion of Vallejo 2009.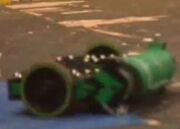 As for Ntertainment itself, it would continue competing for multiple years until 2010, when it retired as the #3 ranked Hobbyweight in the US after placing third at the Motorama robot conflict event that year. At that point the design of the robot had changed completely, having gone through three different weapon types throughout its long career, even winning the Hobbyweight class at RoboGames 2005 along the way.
Ad blocker interference detected!
Wikia is a free-to-use site that makes money from advertising. We have a modified experience for viewers using ad blockers

Wikia is not accessible if you've made further modifications. Remove the custom ad blocker rule(s) and the page will load as expected.