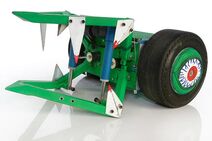 Nasty Overbite
was a heavyweight robot which competed in Season 3.0 of
BattleBots
. It was an invertible robot armed with a pair of hydraulic jaws which could grab an opponent or crush it with 1,000 pounds of force. It did decently in competition, winning one battle before losing to
B.O.B.
Nasty Overbite also competed in Season 1.0 of Robotica as Jawbreaker, as well as Season 1.0 of Robot Wars: Extreme Warriors as General Chompsalot. The team entered a second version into Season 2.0 of Robot Wars: Extreme Warriors called General Chompsalot 2, which entered Season 3.0 of Robotica as Jawbreaker's Revenge.
Robot History
Season 3.0
Nasty Overbite's first ever match was against Total Chaos. Nasty Overbite won by KO at 1:21 and advanced to the TV rounds, where it faced B.O.B. B.O.B. won on a close 24-21 judge's decision and Nasty Overbite was eliminated from the tournament.
Because it lost in the round of 64, Nasty Overbite couldn't participate the heavyweight consolation rumble at the end of the tournament.
Wins/Losses
See Also
Ad blocker interference detected!
Wikia is a free-to-use site that makes money from advertising. We have a modified experience for viewers using ad blockers

Wikia is not accessible if you've made further modifications. Remove the custom ad blocker rule(s) and the page will load as expected.