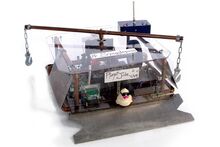 Mr. Snoogglepuss was a lightweight robot which competed in Season 3.0 of BattleBots. It was a Lexan robot armed with two overhead spinning hooks. It didn't perform well in competition, losing its first and only match to Bambino.
Robot history
Season 3.0
Mr. Snoogglepuss first and only fight was against Bambino. In this fight neither robots weapons did much damage to the other. Bambino was the aggressor however, keeping on Mr. Snoogglepuss, and preventing it from spinning up, as well as getting a few hits at the end. Mr. Snoogglepuss ended up losing and was eliminated.
Wins/Losses
| | Wins | Losses |
| --- | --- | --- |
| Season 3.0 | None | Bambino |
Ad blocker interference detected!
Wikia is a free-to-use site that makes money from advertising. We have a modified experience for viewers using ad blockers

Wikia is not accessible if you've made further modifications. Remove the custom ad blocker rule(s) and the page will load as expected.