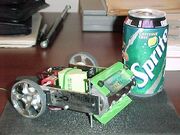 MowBee was an Antweight robot built by Team DaVinci Robotics that competed at the BattleBots Season 5.0 BattleAnts event. It was a Green,and Silver, invertible, two wheeled robot armed with an 8 ounce drum spinner. Unfortunately MowBee was so front heavy that in the arena it couldn't gain any traction, and just spun its wheels, leading it to lose its only match by knockout. Team DaVinci Robotics would have much more success with their Middleweight (Later Heavyweight) Moebius.
Robot History
Season 5.0/BattleAnts
It is unknown who MowBee was drawn against for its first fight, however it is known that it lost by knockout due to being unable to move as it was so front heavy it could not gain any traction at all. This meant that MowBee was eliminated from the tournament in the first round.
Wins/Losses
| Competition | Wins | Losses |
| --- | --- | --- |
| Season 5.0/BattleAnts | None | ???? |