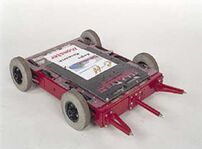 Monster was a heavyweight robot built by Kevin Knoedler which competed at the Long Beach and Las Vegas 1999 competitions and Season 1.0 of BattleBots. It was an invertible box-shaped robot armed with three ramming spikes (originally one) at the front. It performed decently in competition, winning two fights at Long Beach. Monster also originally competed at the Robot Wars 1997 event.
Monster's builder, Kevin Knoedler, also entered superheavyweight Cyclone into Seasons 2.0 and 3.0 and lightweight Wireless Wonder into Season 5.0.
Robot History
Long Beach 1999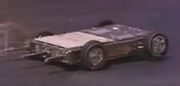 Monster was scheduled to fight
Bad Boy
in the first round, but Bad Boy wasn't finished yet and was forced to forfeit. This win put Monster in the next round where it faced
Crock
. It won by knockout and it was now against
BioHazard
.
Monster mostly drove over BioHazard and was lifted a few times before time ran out. BioHazard won by crowd vote and Monster was now in the loser's bracket, where it faced Rhino. Rhino won by KO and Monster was eliminated from the tournament.
For unknown reasons, Monster didn't participate the gigabot rumble at the end of the tournament.mons
Las Vegas 1999
Monster's only fight was against Rob Knight's
Mortis
. Mortis won on a 6-3 judge's decision and Monster was eliminated from the tournament again.
Monster wasn't finished, however, as it was repaired in time for the heavyweight royal rumble at the end of the tournament.
Season 1.0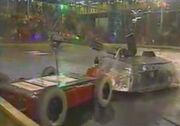 Monster's only match of the season was against
KillerHurtz
. In the match, KillerHurtz immediately got its axe into Monster, where it broke one of Monster's drive chains. While KillerHurtz was only going forward due to technical issues, Monster got stuck on the spikestrip and KillerHurtz got one more blow on top of Monster before it was counted out. This meant that Monster was eliminated from the tournament once again.
However, Monster was repaired in time for the heavyweight royal rumble at the end of the tournament. Monster immediately went at OverKill and bounced off Nightmare from its disc. Monster was then lifted by Tazbot and almost flipped it. Monster then got underneath Mauler and Kill-O-Amp started pushing both of them against the spikestrip. At that moment, Monster stopped moving and was pushed against the spikestrip.
Wins/Losses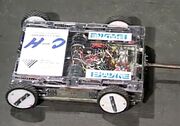 Ad blocker interference detected!
Wikia is a free-to-use site that makes money from advertising. We have a modified experience for viewers using ad blockers

Wikia is not accessible if you've made further modifications. Remove the custom ad blocker rule(s) and the page will load as expected.