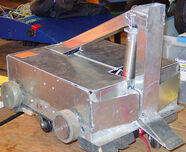 Mini Mer was a lightweight robot built by Team Van Cleve which competed in the final season of BattleBots. It was pretty much a smaller version of superheavyweight entrant Mad Mer with the same weaponry. It did decently in competition, winning two fights in its only season. Mini Mer was renamed Mini Madd for the 2004 NPC Charity event, it kept the name Mini Madd for any following events.
Robot History
Season 5.0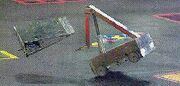 Mini Mer's first match in BattleBots was against Some Parts. After flipping Some Parts at one point, the time ran out and Mini Mer won on a close 25-20 judge's decision. This win put Mini Mer to the next preliminary round, where it faced Tsunami. Mini Mer won by KO and advanced to the next preliminary round, where it faced Cleprechaun. Cleprechaun won on a 35-10 judge's decision and Mini Mer was eliminated from the tournament.
2004 NPC Charity Open

Mini Madd's first match was against Little Black Box. This was pretty much a pushing match and the time ran out soon after. Little Black Box won on a judge's decision and Mini Madd was now in the loser's bracket, where it faced Peanut. Peanut won the match and Mini Madd was eliminated from the tournament.
Wins/Losses
Ad blocker interference detected!
Wikia is a free-to-use site that makes money from advertising. We have a modified experience for viewers using ad blockers

Wikia is not accessible if you've made further modifications. Remove the custom ad blocker rule(s) and the page will load as expected.