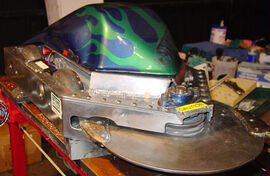 MicroVore
was a middleweight version of
MechaVore
that competed during the last two BattleBots competitions. It did not do well, losing its first fight in both seasons. It was retired after Season 5.0 ended.
Robot History
Edit
Season 4.0
Edit
MicroVore fought ZiggZagg in its only fight. However, Zigg Zagg fit just under Microvore's disc, preventing the spinner from damaging him. Zigg Zagg ran wild on MicroVore, slamming him into walls, lifitng him up on the wedge so that the disc hit the ground. Microvore soon had an impact failure and was knocked out.
Season 5.0
Edit
MicroVore was scheduled to fight WulfBane, but it was unable to pass safety inspection despite Team Shrapnel's repeated attempts, and were forced to forfeit.
Wins/Losses
Edit
The word "MicroVore" means "little eater" or "small eater".
Ad blocker interference detected!
Wikia is a free-to-use site that makes money from advertising. We have a modified experience for viewers using ad blockers

Wikia is not accessible if you've made further modifications. Remove the custom ad blocker rule(s) and the page will load as expected.