Micheal "Fuzzy" Mauldin is the owner of Team Toad. He still competes today at Robogames with Polar Vortex, though the team has also competed in the past with "Avalanche". He is very well known, having many robots over the course of his robot fighting career, each themed after weather terminology. His most successful robot was IceBerg, which reached the quarterfinals twice in the SuperHeavyweight Division.
He still fights today.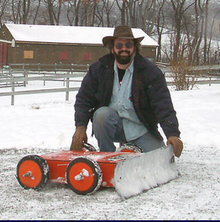 Outside of Battlebots
Fuzzy lives in Liberty Hill,Texas. He also likes working on farms, where most of his original robots are used when not in combat.
Ad blocker interference detected!
Wikia is a free-to-use site that makes money from advertising. We have a modified experience for viewers using ad blockers

Wikia is not accessible if you've made further modifications. Remove the custom ad blocker rule(s) and the page will load as expected.