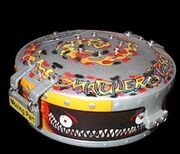 As well as a Grip N' Grappler,
Mauler 51-50
was offered as a kit in 2001 by Jakks Pacific and Road Champs for those willing to build their own version and was based on Mauler's Season 3.0 design. The spinning mechanism is completely motorized, using power from 2 AA batteries. It spins at an impressive speed, enough to inflict damage on lightweight materials such as cardboard and plastic. There is also a stick attached to the back of the model so it can be moved while it is spinning and turned on and off from a safe distance. Like the
Tazbot
Metal Mechanics, this kit came with stickers, which could be added to give it the look of being damaged in battle. As the stickers on the robot's circular body wear, it is best to remove them to allow the model's weapon to spin freely and easily.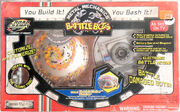 Ad blocker interference detected!
Wikia is a free-to-use site that makes money from advertising. We have a modified experience for viewers using ad blockers

Wikia is not accessible if you've made further modifications. Remove the custom ad blocker rule(s) and the page will load as expected.