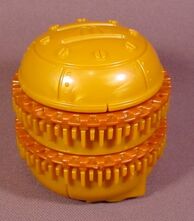 As part of the
BattleBots Happy Meal
range, offered at participating restaurants between April 26th 2002 and May 23rd 2002, Mac Attack was a fictional robot that McDonald's created to complete the range. The toy is based on a typical Big Mac burger, with the patty meat acting as dual sawblades that spin in opposite directions as the toy is pushed forwards. Like the rest of the BattleBots Happy Meal range, it is a pullback toy.
Ad blocker interference detected!
Wikia is a free-to-use site that makes money from advertising. We have a modified experience for viewers using ad blockers

Wikia is not accessible if you've made further modifications. Remove the custom ad blocker rule(s) and the page will load as expected.