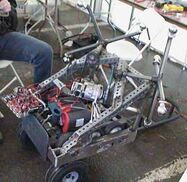 Lug Nutz (also spelled Lug Nuts) was a heavyweight robot which competed in Season 2.0 of BattleBots. It was a six-wheeled wedge-shaped armed with two spinning X-bars with trailer hitches attached to the ends as a sort of bludgeoning weapon. It unfortunately had to forfeit its first match against KillerHurtz due to electrical problems.
After Season 2.0, Lug Nutz was retired and replaced with superheavyweight Ballbreaker.
Ad blocker interference detected!
Wikia is a free-to-use site that makes money from advertising. We have a modified experience for viewers using ad blockers

Wikia is not accessible if you've made further modifications. Remove the custom ad blocker rule(s) and the page will load as expected.