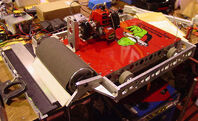 Little Piece of Hate was a lightweight robot which competed in the final two seasons of BattleBots. It was a rectangular robot armed with a gas-powered spinning drum. It performed decently in competition, reaching the round of 128 in Season 5.0.
The team that built Little Piece of Hate also built another lightweight, Malice.
Robot History
Season 4.0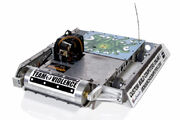 Little Piece of Hate's first and only fight of Season 4.0 was against
Hexy Jr.
Little Piece of Hate did early damage to Hexy Jr. using his drum, but the impact caused Little Piece of Hate's spinning drum to stop. With no remaining defence, Hexy Jr. got underneath Little Piece of Hate and overturned it. With no way to self-right or run upside-down, this ended Little Piece of Hate's debut season.
Season 5.0
Wins/Losses
Ad blocker interference detected!
Wikia is a free-to-use site that makes money from advertising. We have a modified experience for viewers using ad blockers

Wikia is not accessible if you've made further modifications. Remove the custom ad blocker rule(s) and the page will load as expected.