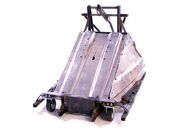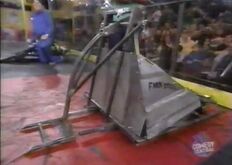 Liquid Lunch
was a superheavyweight built by
Team K.I.S.S.
for Season 2.0 of BattleBots. It was a hydraulic-powered robot armed with a hydraulic lifting arm. It unfortunately had technical problems and was forced to forfeit its only match, but it won the consolation rumble and made a television appearance in the royal rumble. Liquid Lunch was replaced by
Electric Lunch
, which had more success.
Robot
Season 2.0
Liquid Lunch was supposed to fight Tripulta Raptor, but began to suffer technical issues and had to forfeit.
Liquid Lunch was fixed of its technical difficulties to at least participate in the rumble.
Wins/Losses
Ad blocker interference detected!
Wikia is a free-to-use site that makes money from advertising. We have a modified experience for viewers using ad blockers

Wikia is not accessible if you've made further modifications. Remove the custom ad blocker rule(s) and the page will load as expected.