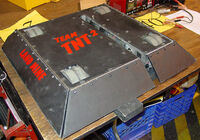 Land Mine was a lightweight robot that participate the final three seasons of BattleBots. It was a black square-shaped robot armed with ten static spikes on the front and side in Season 3.0 and 4.0. For Season 5.0, wedge skirts and an axe were added on Lane Mine. It didn't perform that well in competition as it only won two matches overall. Team TNT² also competed in Season 4.0 in the heavyweight division and in Season 3 in Robotica with Terror, which had no success in either competition.
Robot History
Season 3.0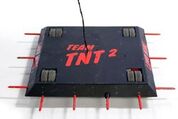 Land Mine's first and only match in Season 3.0 was against Vermicious Kenid. Vermicious Kenid won on a 26-19 judge's decision and Land Mine was eliminated from the tournament.
Season 4.0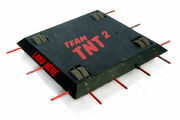 After receiving a bye in the second preliminary round, Land Mine went up against Rama Lama Ding Bot. Right out of the gate, Rama Lama Ding Bot rammed Land Mine hard and got under it. It was a circle-and pushing match after that and Rama Lama Ding Bot appeared to be at an advantage. It wasn't very steerable, but it was strong. Land Mine got stuck under the spikestrip, but Rama Lama Ding Bot knocked it free and the pushing match continued. After that, Land Mine had the advantage, and got underneath Rama Lama Ding Bot several times. In the end, Land Mine won on a close 23-22 judge's decision and advanced to the final preliminary round, where it faced LocoMotion.
LocoMotion pushed Land Mine around, with its strong shuffle drive. Both machines seemed to be having a bit of a hard time steering. Land Mine managed to reverse the tide and push LocoMotion around, then LocoMotion took it back again. It was a very even, see-saw circle-and-push match. Eventually, Land Mine managed to push LocoMotion up onto the exit ramp, but neither bot got high centered on it. In the end, LocoMotion won on a close 24-21 judge's decision and Land Mine was eliminated from the tournament again.
Season 5.0
Land Mine was scheduled to fight Twist of Fate first, but Twist of Fate had technical issues and was forced to forfeit. Land Mine won by default and advanced to the next preliminary round, where it faced Matts Bammer. Matts Bammer won by TKO and Land Mine was eliminated from the tournament once again.
Wins/Losses

Ad blocker interference detected!
Wikia is a free-to-use site that makes money from advertising. We have a modified experience for viewers using ad blockers

Wikia is not accessible if you've made further modifications. Remove the custom ad blocker rule(s) and the page will load as expected.