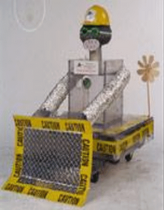 Knome II
was a heavyweight (previously lightweight) robot built by Jerome Miles and
Team Duct Tape
as a successor to
Knome
that competed in the Long Beach 1999 event of
BattleBots
. It was a silver robot armed with a static scoop that was attached to the main robot via a crash test dummy. As expected from such a novelty entry, it didn't get very far in its only season, having the dummy destroyed by
KillerHurtz
in its only match and
Mauler
in the heavyweight rumble.
Robot History
Season 1.0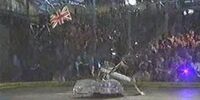 Knome II's first opponent was against the British axe of
KillerHurtz
. Knome II moved slowly before being axed by KillerHurtz, decapitating the head in the process. KillerHurtz then destroyed the top frame of Knome II and charges at Knome II but ends up stuck against the pulverizer. Both robots were immobile, but it was clearly Knome II who was out first due to its speed controller failing and was eliminated from the competition.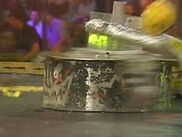 Knome II later came back for the heavyweight royal rumble, but it was destroyed again by the spinning maces of Mauler and was shoved against the spikestrip by Overkill and Punjar.
Wins/Losses
Mark Beiro Introductions
"From Provo, Utah and weighing in at 126 pounds. He's got a head for destruction and a shovel full of hate. Its KNOME II!"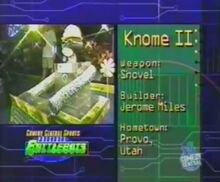 Ad blocker interference detected!
Wikia is a free-to-use site that makes money from advertising. We have a modified experience for viewers using ad blockers

Wikia is not accessible if you've made further modifications. Remove the custom ad blocker rule(s) and the page will load as expected.