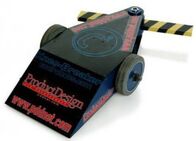 Knee-Breaker
was a middleweight robot built by
Team Coolrobots
that competed at Long Beach 1999, and again from Season 4.0 onwards of
BattleBots
. It was originally a black thwackbot armed with a hammer that was later exchanged for a small spinning blade in Season 4.0. It performed decently in BattleBots, finishing as the middleweight runner-up in its initial season but didn't win a match in BattleBots after that. It competed in Steel Conflict for a while after BattleBots ended.
Knee-Breaker's spinning bar was later given to Chunk.
Robot History
Long Beach 1999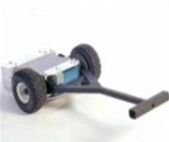 Knee-Breaker's first ever opponent was against Stuffie. After hitting Stuffie multiple times, Stuffie stopped moving and Knee-Breaker won by KO.
Knee-Breaker's second opponent was Team Nightmare's Junior. Knee-Breaker begun to spin as Junior went towards Knee-Breaker. Knee-Breaker hit Junior a couple of times and it smashed a wheel off. This left Junior going in circles. Fortunately for Junior and unfortunately for Knee-Breaker, Knee-Breaker had the same problem. The judges ended the match, declaring it a draw with the intent of making the robots fight again. For some reason the saws stopped working during this fight.
In Knee-Breaker's second fight against Junior, the wheel was smashed off again and the corner of Junior's body was seriously dented. Fortunately for Knee-Breaker, it kept drive in both wheels and won by KO.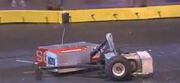 After beating Carnivore by KO, Knee-Breaker went up against Son of Smashy. Son of Smashy won on a judge's decision and Knee-Breaker was now in the loser's bracket, where it faced Turtle Road Kill. Knee-Breaker won by KO and advanced to the next round, where it faced Son of Smashy again. In the match, Son of Smashy was the more dominate in the fight, eventually causing Knee-Breaker's drive chains to fall off. Son of Smashy won by KO and Knee-Breaker was declared the runner-up.
Knee-Breaker wasn't finished, however, as it participated the megabot royal rumble at the end of the tournament.
Season 4.0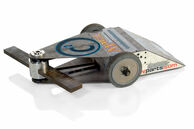 Due to it's seeding, Knee-Breaker was allowed to skip the preliminary rounds of Season 4.0, where it eventually faced
Zion
. Zion won by TKO and Knee-Breaker was eliminated from the tournament again.
Season 5.0
Knee-Breaker's only match in Season 5.0 was against S.O.B. In the match, Knee-Breaker was unable to get away from S.O.B.'s dustpan and was thoroughly damaged by S.O.B.'s circular saw. After the full 3 minutes had elapsed, S.O.B. won on a 28-17 judge's decision and Knee-Breaker was eliminated from the tournament once again.
Wins/Losses
Wins: 4
Losses: 4
Draws: 1
Trivia
Knee-Breaker appeared on CSI in the episode Precious Metal. Its given name was "Smash 'N Burn," and it was used as the murder weapon.