For the third edition of the BattleBots Grip N' Grapplers toy line, Jakks Pacific and Road Champs released a new Grip N' Grappler to replace
Grendel
. This toy was KillerHurtz. Like all the other Grip N' Grappler toys, the toy is attached to a trigger which would move the main weapon and was packaged with a practice bot. The trigger on the KillerHurtz toy moves KillerHurtz's axe. The toy is based of the Season 2.0 incarnation of the real robot, because of the size and shape of the axe. Like the Battle Bashers line, if the Grip N' Grapplers were struck in a certain location, they would "explode". KillerHurtz's weak spots were the panels on the front. Unlike the other toys in the line, KillerHurtz was released in 2002 and was relatively harder to find than the others.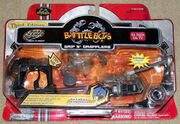 Ad blocker interference detected!
Wikia is a free-to-use site that makes money from advertising. We have a modified experience for viewers using ad blockers

Wikia is not accessible if you've made further modifications. Remove the custom ad blocker rule(s) and the page will load as expected.