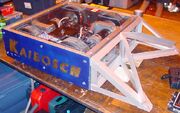 Kaibosch
was a Middleweight robot built by a group of students (going under the team name, Team Evolution) from South Wales, New York that competed in the first
BattleBots IQ
competition. It was a four wheeled, invertible, blue, and white box shaped robot with no active weapons. Instead Kaibosch had a unusual double wedge at the front. Kaibosch did not do well at the event,
losing
both of its fights. It did however win both the Consolation Rumble, and the Royal Rumble at the end of the event.
Robot History
BattleBots IQ 2002
Kaibosch's first match was against Steven Seagal. It lost this fight, and was now in the loser's bracket where it is unknown whom it faced, or even if it won. Regardless of this, Kaibosch was eventually eliminated from the competition.
Kaibosch wasn't done however as it competed in the consolation rumble at the end of the tournament. It won that, and then proceeded to participate in the Royal Rumble, where it took everyone by surprise beating out bots such as runner-up Edge, and the champion Wee Willy Wedgy to become the first BattleBots IQ Royal Rumble winner.
Wins/Losses
Competition
Wins
Losses
BattleBots IQ 2002
None
Steven Seagal

????
Trivia
Kaibosch (Along with Skip or Die) is only one of two Royal Rumble winners to have never won a single battle in the main competition.
Kaibosch is the only Student-built robot to have won a Royal Rumble.
Ad blocker interference detected!
Wikia is a free-to-use site that makes money from advertising. We have a modified experience for viewers using ad blockers

Wikia is not accessible if you've made further modifications. Remove the custom ad blocker rule(s) and the page will load as expected.