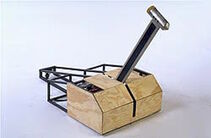 Juggernaut
was a heavyweight robot built by
Jascha Little
(who would eventually go on to build
The Judge
) that fought at the BattleBots Long Beach 1999 competition. It was a robot constructed entirely out of wood and armed with a large hammer weapon. The chassis had a rubber stopper at the end of the hammer's arc so the frame could absorb impacts from it. Juggernaut had a decent win record, winning one battle, but losing twice.
Robot history
Long Beach 1999
Juggernaut's first match was perhaps against Vlad the Impaler, where it was easily flipped and lost by knockout.
Wins/Losses
Ad blocker interference detected!
Wikia is a free-to-use site that makes money from advertising. We have a modified experience for viewers using ad blockers

Wikia is not accessible if you've made further modifications. Remove the custom ad blocker rule(s) and the page will load as expected.