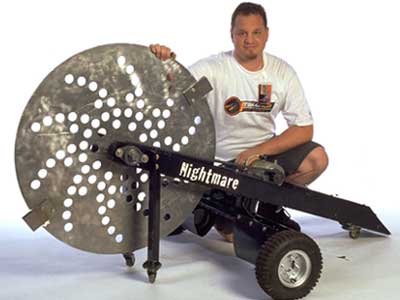 Jim Smentowski is a famous veteran builder and owner of The Robot Marketplace in Florida. He was known for building
Nightmare
,
Backlash
, Breaker Box, Whirligig and many others and has had much success with Nightmare and Backlash over the course of his career. Jim's robot Nightmare is famous for not only having been to every BattleBots competition thus far but also requiring a roof to be put on the BattleBox, which Jim did himself. Jim is also a kind builder and is always willing to give out needed parts to builders. Team Nightmare and Jim Smentowski still compete today on the new BattleBots show on ABC.
Ad blocker interference detected!
Wikia is a free-to-use site that makes money from advertising. We have a modified experience for viewers using ad blockers

Wikia is not accessible if you've made further modifications. Remove the custom ad blocker rule(s) and the page will load as expected.