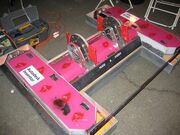 Hugs & Kisses
was a heavyweight robot built by The Bot Dudes which competed in the 2009
BattleBots
Pro Championship. It was essentially a larger version of
Huggy Bear
 (almost 5 feet wide) with two vertically-spinning flywheels each powered by a Magmotor in the middle. Another unique aspect about Hugs & Kisses is that it was 6-wheel drive. It performed decently in competition, winning three battles, but losing two.
Hugs & Kisses was inspired after Huggy Bear got destroyed by Heavy Metal Noise during Season 4.0. The builder of Huggy Bear thought that a heavyweight multibot, with Huggy Bear grabbing opponents and Heavy Metal Noise damaging them, would work well, but he knew that the two wouldn't stand up to the heavyweight robots.
Robot history
Pro Championship 2009
Wins/Losses
| | Wins | Losses |
| --- | --- | --- |
| Pro Championships 2009 | | |
Ad blocker interference detected!
Wikia is a free-to-use site that makes money from advertising. We have a modified experience for viewers using ad blockers

Wikia is not accessible if you've made further modifications. Remove the custom ad blocker rule(s) and the page will load as expected.