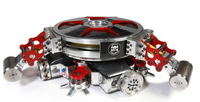 HellaChopper is a robot built by Team Half-Life for the second season of ABC's BattleBots reboot. It was armed with a large overhead spinning weapon which could be swapped between a set of hammers on industrial cords or a more heavy-duty flail assortment depending on the matchup (the heavy-duty weaponry being nicknamed 'Beast Mode'). Despite catching fire twice during safety testing, HellaChopper was cleared to compete, but it was disqualified from the competition due to concerns about the BattleBox being able to contain its weapon. Team Half-Life originally tried qualifying with Atomic Wedgie's successor Atomic Wedgie - Accelerator, but failed as that robot was a simple wedge shape.
Robot History
ABC Season 2
HellaChopper was due to fight HyperShock first, but due to the circumstances noted above, they were forced to forfeit from the tournament and were replaced by UltraViolent in the qualifying round.
Ad blocker interference detected!
Wikia is a free-to-use site that makes money from advertising. We have a modified experience for viewers using ad blockers

Wikia is not accessible if you've made further modifications. Remove the custom ad blocker rule(s) and the page will load as expected.