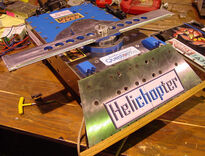 Helichopter was a lightweight competitor which competed in the final season of BattleBots. It was a box-shaped robot armed with an overhead Hazard-style spinning blade and a static plow. Despite this mimicry, it didn't perform well in competition, losing its first match against The Crusher.
The team that built Helichopter also built another lightweight named Firestorm.
Robot history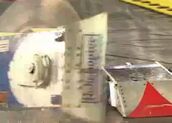 Season 5.0
Helicopter's first match was The Crusher. At one point Crusher toppled Helicopter onto its right-side, but Helicopter's blade may have knocked it back on its wheels. The Crusher won on a 33-12 judge's decision and Helicopter was eliminated.
Wins/Losses