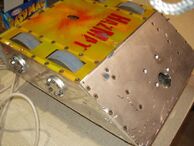 HazMatXD
was a lightweight robot built by
Team XD
that competed at the NPC Charity Open in 2004. It was a four-wheeled wedged robot armed with no active weapon. It didn't do well in competition, winning only one match overall.
The team that built HazMatXD also built the middleweight Adonai, which did just as poorly. They also the superheavyweight Steel Reign in the final three seasons of BattleBots, which was more successful.
Robot History
2004 NPC Charity Open
After receiving a bye in round one, HazMatXD went up against Wipe Out #2. After multiple flips from Wipe Out #2, HazMatXD managed to get underneath the left side of Wipe Out #2 and pushed it against the arena wall twice. Wipe Out #2 flipped HazMatXD onto its back again and the time ran out shortly after. Wipe Out #2 won on a judge's decision and HazMatXD was now in the loser's bracket, where it faced The Prosecutor.
For this match, Team XD added an additional wedge plate on top of HazMatXD in order to protect itself against The Prosecutor's axe. This actually worked to good effect and HazMatXD controlled the majority of the match. In the end, HazMatXD won on a judge's decision and advanced to the next round, where it faced Llamakazi.
Both robots were having driving issues and Llamakazi pushed HazMatXD around the arena at one point in the match. After this, Llamakazi got underneath HazMatXD before the time ran out. Llamakazi won on a judge's decision and HazMatXD was eliminated from the tournament.
HazMatXD wasn't finished, however, as it participated in the special rumble at the end of the tournament. HazMatXD was the only lightweight in the rumble while the rest were heavyweights and superheavyweights. In the rumble, HazMatXD was moving around Russell's Paradigm and got underneath Super Megabyte for a brief moment. HazMatXD then tried to get underneath Megabyte, but it wasn't able to and Megabyte started spinning. HazMatXD was moving around the arena and tried to stay away from Megabyte. After this, Mer Madd pushed HazMatXD from the rear and HazMatXD took a huge hit from Super Megabyte, sending it flying across the other side of the arena. This obviously immobilized HazMatXD and was left there for the rest of the rumble. In the end, Super Megabyte was declared the winner of the special rumble and HazMatXD lost overall.
Wins/Losses
| Competition | Wins | Losses |
| --- | --- | --- |
| 2004 NPC Charity Open | Bye | |