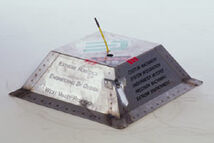 Harvey WallBanger
was a lightweight robot which competed at the inaugural BattleBots event at Long Beach in 1999. It was a sloped rhomboid-shaped robot armed with a retracting spear. Harvey WallBanger was also a very quick robot, and it used this to both its advantage and disadvantage during the competition. It won one battle in its only competition, but still lost two fights.
The name "Harvey WallBanger" comes from a kind of cocktail.
Robot History
Long Beach 1999
Harvey WallBanger's first match was against Toe-Crusher, Toe-Crusher won by KO and advanced to the next round leaving Harvey WallBanger to fight in the Loser's Bracket against HammerHead. Harvey WallBanger won on a Crowd Vote where it faced Lock-Nut Monster, it lost and was eliminated from the competition.
Wins/Losses
Ad blocker interference detected!
Wikia is a free-to-use site that makes money from advertising. We have a modified experience for viewers using ad blockers

Wikia is not accessible if you've made further modifications. Remove the custom ad blocker rule(s) and the page will load as expected.