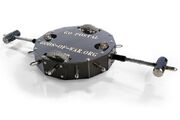 GoPostal
was a superheavyweight robot built by John Taylor, Bernardo Luna, and Team Gods of War/Post Masters which competed in Season 3.0 of
BattleBots
. It was a sit-and-spin two-wheel drive circular robot armed with two long thwacking hammer arms and several spikes which surrounded the robot entirely. It did not do well in its only season, losing its only battle to
Phere
after a very close match. GoPostal during its sit-and-spin, could spin up to a top speed of 1000RPM and 140 MPH at the hammer faces.
After Season 3.0, GoPostal was upgraded by Taylor for Season 4.0 but however probably suffered technical problems or was uncompleted and didn't compete in Season 4.0. Taylor and Team Gods of War also built and competed with heavyweight Chains Addiction for Season 4.0 under team name Bad Seeds, but had no success as well.
Robot history
Season 3.0
GoPostal had a bye from the first preliminary round, but in the second preliminary round it faced Phere. As GoPostal and Phere met in the center of the BattleBox with GoPostal spinning at top speed and Phere's spinning dome up to full speed, the only big hit of the match between the two not only took off both of GoPostal's thwacking hammers and sending them both across the BattleBox, it also totally disabled Phere's spinning dome at the same time. GoPostal was amazingly unharmed on its insides after the impact to the amazement of Taylor, but Phere was limping after the impact. It then went down to a pushing match, but the limping Phere out-pushed GoPostal despite GoPostal maneuvering around it and spinning for the remainder of the match. Despite being immobile at the very end of the match thanks to the big impact from the beginning of the match, there was not enough time to count out Phere and it still won a close 25 - 20 judges' decision. GoPostal was eliminated from the tournament.
Wins/Losses
| | Wins | Losses |
| --- | --- | --- |
| Season 3.0 | Bye | Phere |
External links
Ad blocker interference detected!
Wikia is a free-to-use site that makes money from advertising. We have a modified experience for viewers using ad blockers

Wikia is not accessible if you've made further modifications. Remove the custom ad blocker rule(s) and the page will load as expected.