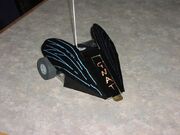 Gnat was an Antweight robot built by Team Maggot that competed in the Season 5.0 BattleAnts event. It was a Black, two wheeled wedge shaped robot with armor panels designed to resemble bug wings, and was armed with a lifting arm. Gnat did well in the event, reaching the quarterfinals at the very least. The team that built Gnat also built the Middleweight competitor Maggot, which was notable for defeating future Middleweight runner-up S.O.B. in the preliminaries of Season 4.0.
Robot History
Season 5.0/BattleAnts
Gnats first match was against Anty Maim. Anty Maim proved to be so uncontrollable that Gnat scored an easy win, and advanced to the quarterfinals where it is unknown whom it faced or even if it won.
Wins/Losses
| Competition | Wins | Losses |
| --- | --- | --- |
| Season 5.0/BattleAnts | Anty Maim | ???? |