The
Giant Screw Award
was an unofficial award given by the builders after Season 4.0. It was awarded to the robot which took the most damage but survived to the end of the fight. The builders voted based on what robot they thought took the most damage. The screw itself was donated by one of the builders.
Winners
Joint Second: Billy-Bot and Pro-AM
Billy-Bot and Pro-AM tied for second with 12 votes. Billy-Bot was destroyed by Phrizbee in its battle, not tapping out in order to let Phrizbee knock the hat placed at the end of the chassis off.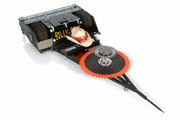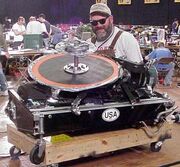 Pro-AM lost two of its drive motors after battling Swirlee. Team Robot Dojo kept charging at Swirlee, taking damage but earning aggression points. However, it lost a close judge's decision.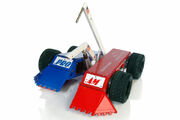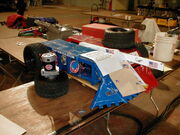 Winner: Decimator
Decimator, with 14 votes, won the Giant Screw Award after being destroyed by M.O.E. in its only fight. It took so much damage one of the CrewBots had to go in with a full-face-shield afterwards in order to safely deactivate the robot, to protect against blown debris from any ruptured or venting pneumatics.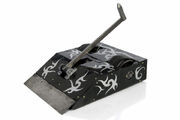 Ad blocker interference detected!
Wikia is a free-to-use site that makes money from advertising. We have a modified experience for viewers using ad blockers

Wikia is not accessible if you've made further modifications. Remove the custom ad blocker rule(s) and the page will load as expected.