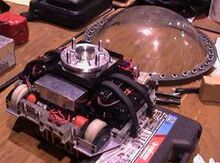 Gerbilov
Robot History
Season 4.0
Gerbilov only fought Dracolich. Right off the bat, Dracolich slammed Gerbilov hard into the wall, and then almost totally stopped moving. Gerbilov backed up and spun up, then hit the near-lifeless Dracolich. However, he only suceeded in killing himself. Dracolich moved on.
Ad blocker interference detected!
Wikia is a free-to-use site that makes money from advertising. We have a modified experience for viewers using ad blockers

Wikia is not accessible if you've made further modifications. Remove the custom ad blocker rule(s) and the page will load as expected.