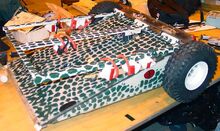 Gatorbot was a Middleweight robot built by Team Gators that competed at the first BattleBots IQ competition. It was a two wheeled, invertible, wedge shaped robot covered with a black, and white leopard print paint job, and armed with a lifting weapon. It is unknown how well it did in the competition, although it did win a match against Playbot, and compete in the royal rumble, but lost overall to Kaibosch.
Robot History
BattleBots IQ 2002
It is unknown whom Gatorbot faced in this event with one exception, it is known to have faced Playbot. This fight started with both robots driving under the pulverizers, immobilizing both robots simultaneously.[1] Gatorbot won this match by a judges decision, and it is unknown who it faced next. Regardless it was eventually eliminated from the competition.
Gatorbot wasn't done however as it competed in one of the multiple consolation rumbles at the end of the competition. It won, and proceeded to participate in the royal rumble, however it lost overall to Kaibosch.
Wins/Losses
Competition
Wins
Losses
BattleBots IQ 2002
Playbot

?

????

????
References