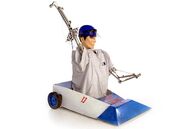 Garry Gizzmo was a two-wheeled middleweight robot which competed in Season 3.0 of BattleBots. It was a wedge-shaped robot armed with two pneumatic hammers. It didn't do well in the competition, winning one match before losing to the Pack Raptors in the round of 128.
The team also entered Garry Gizzmo in Season 1.0 of Robot Wars: Extreme Warriors as the first version of Conquering Clown where it got to the third round of the Annihilator. The team built a second Conquering Clown for Season 2.0 of Robot Wars:Extreme Warriors which was more successful as it reached the Grand Final.
Robot history
Season 3.0
Wins/Losses
See Also
Ad blocker interference detected!
Wikia is a free-to-use site that makes money from advertising. We have a modified experience for viewers using ad blockers

Wikia is not accessible if you've made further modifications. Remove the custom ad blocker rule(s) and the page will load as expected.