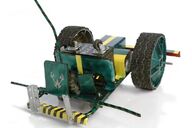 Gang Green Weasel was a heavyweight robot which competed in Season 3.0 of BattleBots. It was a green two-wheeled robot with no active weapon but lots of drive power. It performed decently in competition, reaching the taped rounds before losing to Slam Job in the round of 64.
Robot History
Season 3.0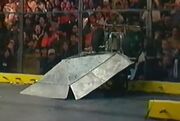 Gang Green Weasel's first ever match was against Deathwishbone. Gang Green Weasel won by KO at 1:28 and advanced to the TV rounds, where it faced Slam Job.
Both robots went straight at each other and Slam Job hits Gang Green Weasel with it's axe. Slam Job then pushes Gang Green Weasel against the arena wall and flips it with it's axe. Gang Green Weasel was on it's rear and it eventually got back on the arena floor. Slam Job pushes Gang Green Weasel to the killsaws as the Gang Green Weasel team starts tapping out. Slam Job won by KO at 1:38 and Gang Green Weasel was eliminated from the tournament.
Because it lost in the round of 64, Gang Green Weasel couldn't participate the heavyweight consolation rumble at the end of the tournament.
Wins/Losses