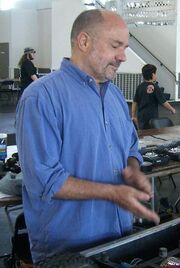 Gage Cauchois was one of BattleBots' most winning competitors, winning three BattleBots championships in two divisions. He owned three robots,
Vladiator
,
Vlad the Impaler
, and Vlad the Impaler II. Along with his BattleBots success, he was one of the best competors in the original
Robot Wars
. He competed in all seven BattleBots competitions with much success.
Outside BattleBots
Gage Cauchois Design will quickly take your idea from concept to detail design to prototyping and manufacturing. Utilizing an empirical methodology following a concurrent design/engineering model which allows for a completed project in less time and cost than the competitors.
Whether you are an established manufacturer or a start-up looking for a product development company to help you launch your first product, Gage Cauchois has the experience to assist.
Ad blocker interference detected!
Wikia is a free-to-use site that makes money from advertising. We have a modified experience for viewers using ad blockers

Wikia is not accessible if you've made further modifications. Remove the custom ad blocker rule(s) and the page will load as expected.