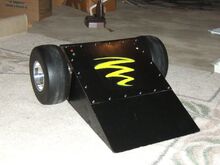 Funnel Cloud was a Middleweight robot built by Polybots. It was a Black, two wheeled, invertible wedge shaped robot with Yellow tornado graphics, Funnel Cloud had no active weapon, instead relying on pushing power.
Funnel Cloud did not do well at all in the competition, losing its first fight and forfeiting its second one. Funnel Cloud also competed at RoboGames 2005 to much similar results although it did manage to win one fight there.
Robot History
BattleBots Rochester R3
After receiving a bye in the first round, Funnel Clouds first fight was against MoZar. It lost this fight by destructive KO, and was now in the loser's bracket where it was scheduled to fight Chaos Toaster. However Funnel Cloud was so badly damaged that it was unable to be repaired in time so it was forced to forfeit. This meant that Funnel Cloud was eliminated from the competition.
Wins/Losses
| Competition | Wins | Losses |
| --- | --- | --- |
| BattleBots Rochester R3 | bye | MoZar |