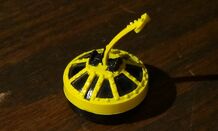 frenZy was one of the 50 robots from Season 2.0 to be made into a MiniBot. It was not that accurate compared to others of the set, as it is missing all of its sponsor decals and the axe is too short. However, these may be because of copyright issues and mold size.
Ad blocker interference detected!
Wikia is a free-to-use site that makes money from advertising. We have a modified experience for viewers using ad blockers

Wikia is not accessible if you've made further modifications. Remove the custom ad blocker rule(s) and the page will load as expected.