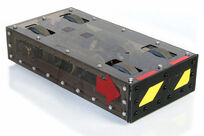 Flying Brick (originally Learning Curve) was a lightweight robot which competed in the final two seasons of BattleBots. It was a rectangular robot with no active weapon but lots of speed and pushing power. It didn't perform well in competition, winning only one battle against Rhode Hog in Season 4.0.
Robot history
Season 4.0
Learning Curve's first opponent was Rhode Hog. As the match began, Learning Curve missed its initial ram and slammed itself into the wall. Then both robots started pushing each other. Rhode Hog managed to get half of Learning Curve in its shell but couldn't move with Learning Curve and both robots had to be separated. Both robots circled around each other and Learning Curve got a few light rams in before the time ran out. Learning Curve won on a 27-18 judges decision and moved on to fight Pursuer.
Learning Curve rammed Pursuer, but glanced off its conical shell harmlessly. It became a maneuvering and pushing match, where Pursuer had the pushing advantage, as it was lower than Learning Curve and got underneath. But it was a bit hard for it to use this advantage because its opponent kept tending to slide off it. Pursuer did not have enough power to really shove or ram with its spike. Learning Curve seemed to have control problems a bit later into the fight; it kept on going backing into the wall hard. Pursuer just kept slowly and harmlessly pushing; it's about all it was built to do, but it was enough to win a 32-13 decision.
Season 5.0
Wins/Losses