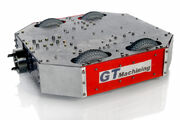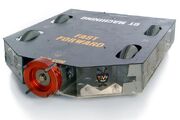 Fast Forward
was a middleweight robot which competed in the final three seasons of
BattleBots
. It was an invertible, four-wheel drive octagonal robot armed with a spinning cutter, It did not do well in competition, winning only one battle in three seasons.
After BattleBots, Fast Forward was renamed Hypersonic.
Robot history
Season 3.0
Season 4.0
Fast Forward fought Malvolio for a spot in the TV rounds. Malvolio's spinner arm was a bit bent, an thus a bit unbalanced and shaky. However, it still worked well enough. After a few hits, carefully tracking his opponent around the box and keeping the weapon pointed at him, he got in a nice shot on Fast Foreward's back armor and tore it open. Fast Foreward's battery pack was ejected and dragging on the floor. He paused, then started retreating. Malvolio smelled blood, and another hit took the battery off and Fast Foreward stopped moving.
Wins/Losses
Ad blocker interference detected!
Wikia is a free-to-use site that makes money from advertising. We have a modified experience for viewers using ad blockers

Wikia is not accessible if you've made further modifications. Remove the custom ad blocker rule(s) and the page will load as expected.