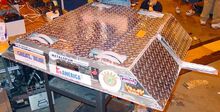 Evil Eagle was a Middleweight robot built by students from the Hauppauge High School that competed at the first BattleBots IQ competition. It was a silver, four wheeled robot armed with a lifting arm. Evil Eagle did very well in competition, reaching the semifinals, and taking fourth place.
Robot History
BattleBots IQ 2002
Wins/Losses
Competition
Wins
Losses
BattleBots IQ 2002
????

????

possibly more

Wee Willy Wedgy
Trivia
Evil Eagle was named after the Happauge High School mascot, which is an eagle.
Ad blocker interference detected!
Wikia is a free-to-use site that makes money from advertising. We have a modified experience for viewers using ad blockers

Wikia is not accessible if you've made further modifications. Remove the custom ad blocker rule(s) and the page will load as expected.