Escape Velocity is a robot which competed in Season 2 of ABC's BattleBots reboot. It was equipped with a flipping arm and was joined by a small full-body spinner. It performed decently, Defeating OverDrive in the first round by a unanimous decision but losing to eventual champion Tombstone in the round of 32 by a knockout in 45 seconds.
Escape Velocity was built by a group of SpaceX employees and was designed to look like the equipment used in the lunar landing.
Robot History
ABC Season 2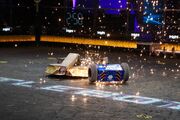 Escape Velocity's first ever match in BattleBots was against a completely rebuilt
OverDrive
. The fight started badly for Escape Velocity with the small full-body spinner getting flipped by OverDrive's spinning bar.
However, things quickly turned in Escape Velocity's favor when OverDrive's spinning bar broke shortly after that hit. Suddenly, Escape Velocity had the upper hand, flipping OverDrive until it was high-centered on its front end before the time ran out. Escape Velocity won on a unanimous 3-0 judge's decision and advanced to the round of 32 with its No.32 seeding, where it faced the Season 1 runner-up and No.1 seed
Tombstone
.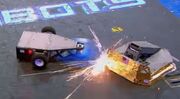 For this fight, Team Ground Control decided not to use the full body spinner so that they could add more armor to the main robot. The new armor didn't work well, as Tombstone immediately began ripping it off. Tombstone continued to hit Escape Velocity until it stopped moving as the impact destroyed both the master power switch and the weapon switch and cut a 2" gash in the side. Tombstone won by KO at 45 seconds. This meant that Escape Velocity was eliminated from the tournament.
Wins/Losses
Faruq Tauheed Introductions
"Bang! Zoom! Right to the moon! Get ready for an intergalactic atrocity! It's ESCAPE VELOCITY!"
"NASA may be headed to Mars, but this bots headed straight for Uranus! It's ESCAPE VELOCITY!"
Ad blocker interference detected!
Wikia is a free-to-use site that makes money from advertising. We have a modified experience for viewers using ad blockers

Wikia is not accessible if you've made further modifications. Remove the custom ad blocker rule(s) and the page will load as expected.