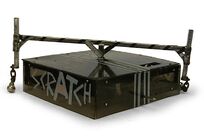 EnumScratch was a middleweight robot which competed in Season 3.0 of BattleBots. It was a black box-shaped robot armed with an overhead spinning blade with two attached chain flails. It didn't perform well in competition, losing its first match against Alabama Slammer.
EnumScratch's name was a pun off of the city the team came from, Enumclaw, Washington.
Robot History
Season 3.0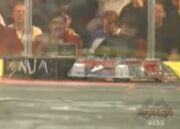 EnumScratch's first and only match in Season 3.0 was against
Alabama Slammer
. After being pushed against the spikestrip by Alabama Slammer, the time ran out and Alabama Slammer won on a 37-8 judge's decision. This meant that EnumScratch was eliminated from the competition.
Wins/Losses
Trivia
EnumScratch and Horrifica are the only two robots from Enumclaw to compete in BattleBots. Coincidentally, they were both middleweights that only fought in Season 3.0.