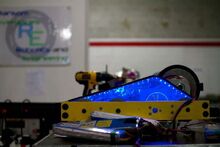 El Cholo was a Middleweight Drum Spinner that competed in BattleBots at JavaOne competitions. They won a few battles throughout their years competing. It was made by Will Bales in 2010 who later made Fluffy DeLarge and HyperShock. It was re-entered in 2011, but it was made by someone else (Possibly a relative of Will Bales).
However they did compete in a grudge match with Choo Choo Bacca that they won.
Wins: Choo Choo Bacca (Grudge Match)
Losses: Witch Doctor
Wins: Diesel
Ad blocker interference detected!
Wikia is a free-to-use site that makes money from advertising. We have a modified experience for viewers using ad blockers

Wikia is not accessible if you've made further modifications. Remove the custom ad blocker rule(s) and the page will load as expected.