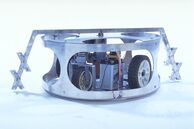 Doublecross was a lightweight robot which competed in Season 2.0 of BattleBots. It was a circular robot armed with an overhead spinning blade. It didn't perform well in competition, losing its first and only match.
After BattleBots ended, Doublecross returned to the robot combat scene, becoming a "sit and spin". It competed at Team Toad's Robot Club and Grille events in 2003 before retiring.
Robot History
Season 2.0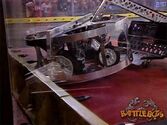 Doublecross' only match was against
Widowmaker
. In the beginning, Widowmaker charged towards Doublecross, which spun its blade, but backed up and hits the arena wall. Widowmaker approached Doublecross and got its spinning bar into the side, smashing the armor and destroying the battery, spilling battery acid all over the arena. Widowmaker backed up to get its weapon going again and smashed it back into the now disabled Doublecross. After several hits on Doublecross, the match was over and Widowmaker won by KO. This meant that Doublecross was eliminated from the tournament.
As of 2015, it is unknown if Doublecross participated the lightweight consolation rumble during Season 2.0.
Wins/Losses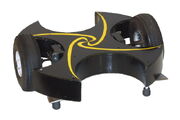 Ad blocker interference detected!
Wikia is a free-to-use site that makes money from advertising. We have a modified experience for viewers using ad blockers

Wikia is not accessible if you've made further modifications. Remove the custom ad blocker rule(s) and the page will load as expected.