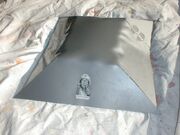 Doktor was a Beetleweight robot built by Team Maahs that competed at the 2004 NPC Charity Open. It was a Silver, four sided box wedge robot with skirts on all sides.
Doktor did not do well in the competition, only winning one fight, and losing two. The team that built Doktor also built another Beetleweight, Krank for the same event, which performed even worse.
Robot History
Doktor's first fight was against Chimera. It won this fight, and progressed to the next round where it faced Buzzkill. It lost this fight, and was now in the loser's bracket where it faced One Fierce Weed Wacker. It lost this one as well, and was eliminated from the competition.
Wins/Losses
Ad blocker interference detected!
Wikia is a free-to-use site that makes money from advertising. We have a modified experience for viewers using ad blockers

Wikia is not accessible if you've made further modifications. Remove the custom ad blocker rule(s) and the page will load as expected.